Regular price
Sale price
$54.00 USD
Unit price
per
Sale
Sold out
Combat aging and reduce wrinkles with the Probiotic Eye Repair Cream. Our innovative anti-aging cream utilizes SCS (skin cell stems) and patented lipo-peptides and is specially designed to use with the Age-Defying Eye Serum. It will keep your skin looking younger by attacking fine lines, wrinkles, dark circles, and puffiness with no oily residue. Age gracefully with the Probiotic Eye Repair Cream! For maximum benefits, pair with the Probiotic Age-Defying Eye Serum by applying the Eye Serum first, then the Eye Cream.
NOTE: We are in the process of transitioning packaging. As such, the packaging you receive may be different. Our formula remains the same. 
Key Ingredients

Carthamus Tinctorius (Safflower) Seed Oil: its hydrating properties lend skin a healthy glow, promote elasticity and reduce the appearance of wrinkles

Special patented Peptide: is made from a blend of plant extracts and peptides, which help the skin improve its overall elasticity and improve blood flow. It helps prevent puffiness and reduces bags under the eyes.

Citrus Aurantium Dulcis (Orange) Peel Oil:  is an extract of the fruit of the orange, Citrus Aurantium Dulcis. Hesperidin is the major flavonoid contained in sweet oranges and lemons. It has demonstrated antioxidant, anti-inflammatory, skin lightening,
and anti-microbial properties

MAP: Magnesium Ascorbyl Phosphate is a water-soluble, non-irritating, stable derivative of Vitamin C . It has the same potential as vitamin C to boost skin collagen synthesis but is effective in significantly lower
concentrations. It is an effective antioxidant, brightens the skin
tone and reduces signs of aging.

Lactobacillis/Ulkenia Ferment Extract
Filtrate, Bifida Ferment Lysate: new and Powerful Probiotic complex. It helps to hydrate and soothe irritated skin, giving skin a healthy glow. It can also protect skin against damage caused by free radicals. Boost the skin's immune system and restore a
healthy pH balance to the skin
Benefits

Decreases appearance of puffiness and fine lines.
Firms and restores the delicate eye area
Eliminates puffiness and bags
Reduces the appearance of age and increases the look of youthful skin
The lightweight, hydrating cream sinks into your skin quickly –so you can apply your concealer and other makeup ASAP.
Directions for use

Gently apply a small amount with fingertips under and around the eye area AM and/or PM.
Share
View full details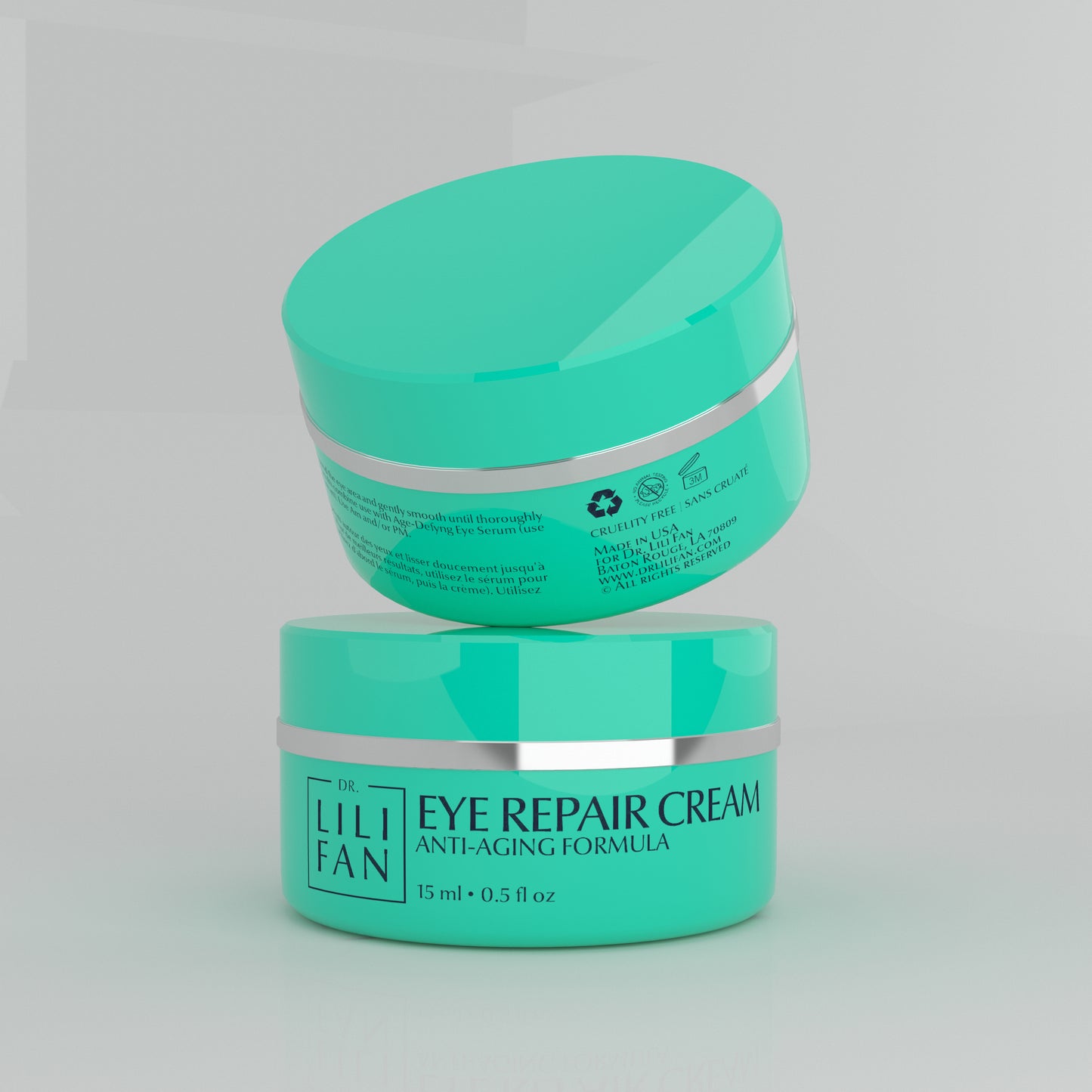 WOW
This product is AMAZING!!! The skin under my eyes is much softer & brighter. Many other eye creams I've used are harsh and sometimes burn my eyes. This probiotic eye repair cream is so gentle yet gets the job done!!! Fabulous product!
Thank you so much for the 5-star review! We are thrilled to hear that you are enjoying our product and appreciate your feedback. Thanks again for your continuous support!
Excellent Product!!
My son recommended that I try this product, and it is by far my favorite eye cream and the only eye cream I will purchase from now on! The results are spectacular - I've been using it for the past 5 months and it has left a noticeable difference in the way my skin looks and feels.
We are so glad to hear that you love our product! Thank you for taking the time to leave a 5-star review. Your feedback is greatly appreciated.
The only eye cream I'll ever use
Before trying this product, I had sampled eye creams that promised quick and lasting results. Unfortunately, none that I had purchased before this product delivered on that promise - and, interestingly enough, they were all at least 2x more expensive than Dr. Fan's eye cream. However, once I tried the Eye Repair Cream, I knew it was a game changer. Before using it for the first time, I was (and still am) due for a vacation. I worked as a full time student, part time assistant, part time researcher, and part time therapist. Even now, it always seems like it will take a miracle for me to get a full eight hours of sleep each night, and as you can imagine, I often get dark circles under my eyes. Within just a few uses, though, I noticed an immediate difference! It completely changed the texture and appearance of my eye area, and the luxurious feel and light fresh scent has been an incredible way to start my busy mornings. I can say firmly that I'm a believer in Dr. Fan's products, and I will never try another eye cream. HIGHLY recommend!
We are overjoyed to read your 5-star review! Thank you for your kind words and for supporting our product. We truly appreciate your feedback
Best Eye Cream I've Ever used!!!
Probiotic Eye Repair Cream is the best eye cream I have ever used!! I received it as a sample in my Ipsy bag several years ago and now I can't use anything else! The feeling when I apply is refreshing and helps me feel more awake. The texture is beautiful and most importantly, the results are beautiful! This eye cream is effective! My eyes look brighter and more awake when using this. The cream really gets rid of my dark circles, bags, softens any fine lines, brightens, deeply moisturizes, and somehow, it even seems to make my eyelashes grow longer! I have tried sooooooo many eye creams, and nothing has given me the beautiful results this one does. Nothing else compares. I'm a tired Mama of two very young boys and this helps me to look and feel more vibrant. Not only is the product itself effective and amazing, but all of my customer service interactions have been above and beyond as well. I'm a true fan of this company and a loyal customer for life! Sephora, Ulta, Nordstrom.... if you're not carrying this line of amazing products.... you're missing out! Thank you, Dr Lili Fan for creating with such forward thinking, such a beautiful and effective line of skincare!
Amazing eye cream!!!!
I originally got a small sample of this eye cream in an Ipsy bag a few years ago and I fell in love instantly!! While using it I didn't notice much of a difference but as soon as I ran out of the sample I realized how much of an impact this eye cream was making! After about a week my crazy dark circles and puffy eyes came back so I bit the bullet and purchased the full size cream and I'm never looking back! This cream has done wonders for my under eye bags and I've even used it on hyperpigmented areas on my face and just WOW. The results are unlike any cream I've ever used before. The price seems a little steep up front but the full size jar lasted me almost a year and a half and now I'm buying it again because this stuff is the real deal. 100% recommend!!